Karoo Gariep Wedding Venue at New Holme Guest Farm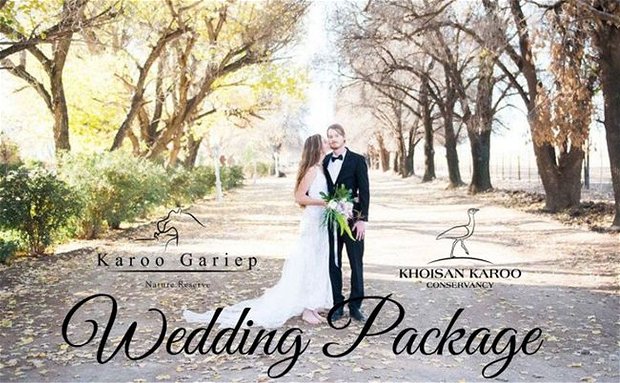 Karoo Gariep Nature Reserve, known for its peace and tranquillity; the sweeping secluded landscapes and breathtaking vistas of the Karoo countryside; the warm hospitality of the hosts who understand precious moments; the love for exquisite food, exceptional South African wine, romance, life, and celebration, all is the cornerstone of this special venue. Enjoy the close comfort of family and friends, sharing in your happiness at this dreamy destination.
The Venue
We offer a unique and private event that will take shape and form around your dream. We recommend that your wedding extends over an entire weekend, giving you enough time to socialize and reconnect with your family and friends, as opposed to just a couple of hours, as is so common of city weddings. The venue is suitable for 50 to 200 guests, 50 guests for an indoor event and up to 200 in the garden or marquee tent
Décor
We have professional decorators at your service, and they will take care of everything, from the flowers to the smallest details. The setting provides an opportunity for a range of unique and beautiful wedding photographs, to capture the wonderful memories of this special day.
Catering
The kitchen staff with their 18 years of culinary experience, will treat you and your guests to a gourmet feast of South African cuisine, from a selection of menus.
Accommodation
New Holme Guest House is situated halfway between Johannesburg and Cape Town on the N1, and can accommodate 27 overnight guests with a total of 58 on the Reserve, but additional accommodation can be arranged at other guest farms in the area if necessary.